RCC CEMENT PIPE
JOINT

(IS 458) RUBBER RING
Our speciality and our main product is R C C cement pipe joint rubber ring also known as rubber gascket or rubber seal. We are manufacturing rubber ring is confirm IS 5382 type 2 and is suitable for Cement pipe of IS 458 in class P1/NP2/NP3/NP4 Horizontal and Verticle vibro cast method. We can produce 150MM 2600MM ID size in SBR / EPDM / NR Rubber.

Our Rubber ring has BIS approwed.
RING JOINT CEMENT PIPE PROFILE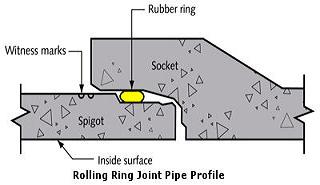 D I PIPE JOINT RUBBER RING (GASKET)
T TYPE RUBBER RING FOR DUCTILE IRON PIPE SIZE: 80MM TO 700MM
RUBBER TYPE:SBR/EPDM/NBR/NR
APPLICATION:DUCTILE IRON PIPE JOINT SEALING
STANDARD: IS 5382
ALSO AVAILABLE AS PER BUYER'S SAMPLE OR DRAWING
PVC FOOT STEP
PVC Foot Step is a uniquely designed manhole safety, made from copolymer polypropylene and steel composite. It is a superior substitute for conventional mild steel/cast iron foot Step. It offers superior resistance to corrosive environments characteristic of sanitary sewers. In addition, the unique slip resistance design & bright colors provide added safety to the cleaning personnel.

Specifications : Polypropylene �6mm thick copolymer polypropylene conforming to ASTM-4101/ IS-10910 Steel: 8/10/12mm diameter steel bar conforming to IS-786 Load Requirement-Easily exceeds 225 kg

as per IS-5455 Surfaces Finish-2 mm treads- On top surface by ribbing or chequering
BUTTERFLY VALVE RUBBER SEAL
BUTTERFLY VALVE SEAL AS PER STANDARD AND BUYERS SPECIFICATION.

WE MANUFACTURING UP TO 48" SEAL

RUBBER: SILICONE / VITON / EPDM / NBR
| | | |
| --- | --- | --- |
| | | |
| PAVER BLOCK MOULD | RUBBER SHEET | ADHESIVE BEADING |
| | | |
WE ARE ALSO MAKE PAVER BLOCK MOULD, RUBBER SHEET, CHECKER RUBBER SHEET FOR ELECTRIC PURPOSE, ADHESIVE BAEDING , VALVE DIAPRAGM , RUBBER GASCKET FOR FLANGE ETC. IN EVERY SIZE, EVERY TYPE OF RUBBER.